Titan-Etch: Easy titanium etching without hydrofluoric acid (HF).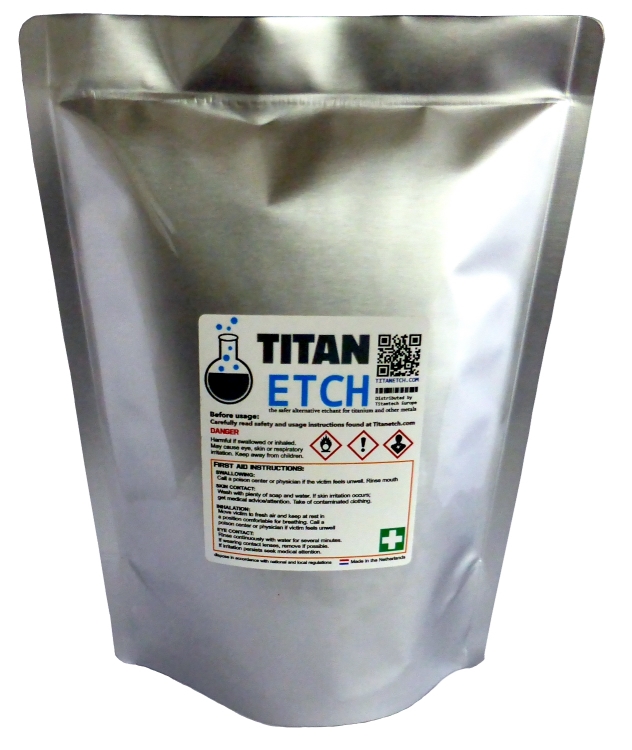 Titan-Etch is an efficient and powerful etchant for titanium. It offers a safer and cheaper alternative to the hazardous and strongly acidic Kroll's Reagent (a mixture of hydrofluoric acid (HF) and nitric acid (HNO3)). Titan-Etch delivers excellent etching results while being only mildly acidic, making it the safest titanium etching solution available on the European market today.
Titan-Etch is available in Europe, but can only be shipped to these countries.
Titan-Etch is delivered as a solid, which must be dissolved in distilled water to produce the etching solution. 250g of Titan-Etch is enough for almost 2 Liters of etchant. The etchant can be stored for a long time and is re-usable many times.

Titan-Etch:
Makes etching titanium easier, cheaper and much safer.
Greatly improves anodizing results (more, deeper and stronger colours).
Optimizes your titanium for welding (removes the surface oxide layer).
Is a low-acid (pH > 5) etching solution and contains NO hydrofluoric or nitric acids.
Can be used to correct anodizing mistakes.
Maintains the surface finish of your material (as long as not etched for too long).
Will keep its effectiveness throughout many etching cycles.
Is suitable for medical and industrial applications, but is also commonly used by artisans, knife makers, jewelry makers and other hobbyists.